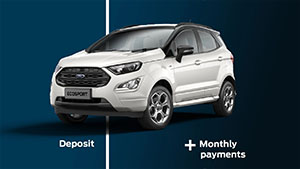 With over 50 years' experience Ford Credit has helped millions of UK customers buy their cars.

Are you looking for a traditional form of financing?

You know where you stand with Ford Acquire from Ford Credit. Simply put down a deposit and follow it by regular monthly payments. You will then own the car at the end of your agreement providing all payments have been made.
Vehicle Eligibility
New and Used Vehicles. Age limits apply.
Features & Benefits
Traditional form of car financing
Interest rate fixed for the loan duration
Fixed monthly payments
A choice of repayment periods ranging from 24 to 60 months
A deposit may not be required
At the end of the agreement, assuming all payments (including the Purchase Fee) have been made, you own the car
How It Works
Your fixed monthly payment will depend on the following:
Agreement length - choose from 24 to 60 months
The amount of the deposit you wish to pay
The Ford vehicle you want to drive
At The End
The car is yours at the end of the agreement assuming all payments plus the purchase fee have been made.
Finance subject to status. Freepost Ford Credit.
Important Information
Finance subject to status. Guarantees/indemnities may be required. Freepost Ford Credit.
Your protection
Ford Credit is a member of the Finance and Leasing Association (FLA) and adheres to their Lending Code. You can view this Code at www.fla.org.uk/consumer-information/lending-code. The code sets out key commitments and principles that we believe are fundamental in providing excellent customer care.
If you have a complaint full details of who to contact are available at www.ford.co.uk/finance/support/our-complaints-procedure.
f your complaint is not closed to your satisfaction after a period of eight weeks, you have the legal right to escalate the complaint to the Financial Ombudsman Service (FOS) by calling 0800 0234 567 or 0300 123 9123 or by email to complaint.info@financial-ombudsman.org.uk.
You can view further details of this service on www.financial-ombudsman.org.uk/consumer/complaints.htm.
Before you make your decision, for impartial, independent advice on car finance products, visit the Finance and Leasing Association website
here
.
You should not commit to a finance agreement unless you are confident that you can afford the payments throughout the term of the agreement and have no unforeseen reasons that would prevent you continuing to afford the agreement. For free, independent financial advice visit the Money Advice Service here.
Treating Customers Fairly
Treating customers fairly is a core principle at Ford Credit. This forms a cornerstone of how we do business with all our customers and is embedded in our company culture. If, at any time, you believe that we have failed to live up to this principle please contact us.
Ford Credit is a trading Style of FCE Bank plc. Registered in England: No 772784. Registered Office: FCE Bank plc, Arterial Road, Laindon, Essex, SS15 6EE. FCE Bank plc is authorised by the Prudential Regulation Authority and regulated by the Financial Conduct Authority and the Prudential Regulation Authority under firm reference number 204469.